Here are just a few SAUNA benefits…
Improved Mood
Releases Endorphins
Skin Purification
Better Sleep
Increases blood flow to skin
Stress Relief
Reduces muscular aches and pains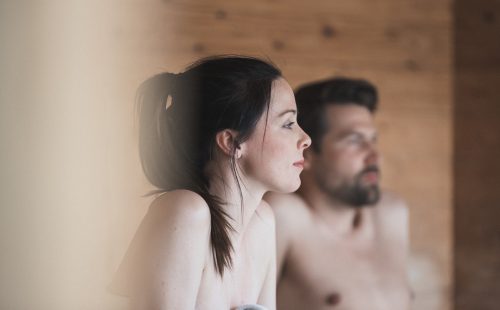 Is an Infrared Sauna Better Than a Traditional Sauna?
Infrared sauna heat penetrates more deeply than warmed air. This allows you to experience a more intense sweat at a lower temperature, as well as stay in the sauna longer.
There's nothing quite like a 20-minute sweat session in a sauna. You feel more relaxed and rested after you're done, and the heat helps relieve sore muscles and improves your overall health and well-being.
But if the high temperatures of a traditional sauna are just too much for you to handle, an infrared sauna may offer the benefits of a sauna without the extreme heat.
What is an infrared sauna?
Unlike a traditional sauna, infrared versions don't heat the air around you. Instead, they use infrared lamps (that use electromagnetic radiation) to warm your body directly.
"These saunas use infrared panels instead of conventional heat to easily penetrate human tissue, heating up your body before heating up the air," explains physical therapist, Vivian Eisenstadt, MAPT, CPT, MASP.
Read more from Healthline here.
Infrared sauna therapy has been used for years to benefit a multitude of health conditions such as high blood pressure, congestive heart failure, dementia, Alzheimer's disease, headaches, type 2 diabetes, and rheumatoid arthritis.  Many auto-immune conditions can be managed and the side effects reduced by sitting in an infrared sauna 2-3 times a week.
Infrared saunas also detoxify your entire body to reduce the number of toxins and allergens that may be present.  Clients tell us they are less stressed, sleep better, and have mental clarity after their sessions.
Unlimited monthly sauna membership is $99 per month. No annual commitment. Cancel anytime, though you won't want to.  A sweat sesh includes 30 min private sauna time, a robe to wear, towel service, and water to rehydrate. You can even choose the perfect temperature for you!