I can hardly believe it's been almost a year since I tried out the Candela Medical Microneedling device. After seeing it in person and testing it out on Sarah, our office manager, guinea pig, and overall good sport, I ordered it that day. Then I began my training not long after.
Many of my clients have booked and rebooked this service because they see a difference in their skin. THANK YOU for putting your trust in me!
After some recent continuing education with this device, I have decided to offer a less invasive, and lighter version of microneedling at the spa. It has no downtime other than the afternoon of treatment. That means no workouts, or extended outdoor sun exposure day of treatment, just like you would treat your skin after a facial. You can wear makeup the next day, or go fresh and clean. Just be sure to wear SPF.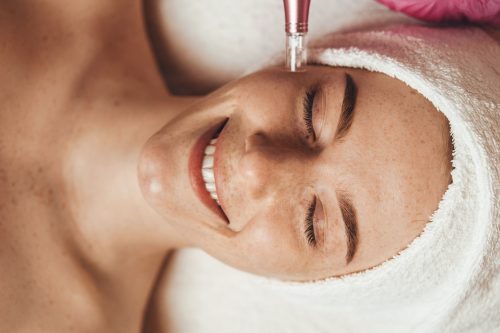 So how do you choose which Microneedling is best for you?
Here are the benefits of our lighter version, we call it our Collagen Boost Microneedling.
Much less downtime
Less redness
Can apply makeup next morning
Less trauma to skin, so it rejuvenates quicker
You can resume your normal skincare routine the next day
No tale tale signs of a treatment if you want to keep on the DL
Safe for pregnant or nursing mothers
Shorter 30 min appointment
Less expensive at $269 per treatment
Creates collagen in the skin for up to 90 days
More shallow depth of treatment means no numbing necessary
Can be done year round, even in the summer
Now for the breakdown of the Medical Grade Microneedling
Downtime is day of treatment and day after
Moderate redness
Hold off on makeup for 24 hours
Creates collagen in the skin for up to 90 days
Treats deeper concerns like scarring from accidents, trauma, or acne
Requires numbing for deeper treatment comfort, so it doesn't hurt at all
Treatment is 75-90 min total, to allow for numbing
You'll want to head straight home after this one
Treatment is $379 for face, $399 for face & neck, $459 for face, neck & chest
First treatment includes post-care kit with Stem Cells
Should be avoided in hotter, sunnier months like June, July & August
Whichever one you choose, you are going to see improved texture and tone of skin, and get that collagen boosting effect that we all want after our skin has started to show age.
Not sure where to begin your skin journey? Book an appointment with us for a skin consultation or New Client Facial. We'll get a game plan to get you the best skin we can!
Thanks for reading,
Monica
Owner & Lead Esthetician
The Hidden Spa, Statesville NC