Gua Sha Massage Special
This 90 minute treatment includes a full body massage and a Gua Sha facial massage.
What is Gua Sha? Glad you asked!
Gua Sha is a traditional Eastern healing technique in which a smooth stone is lightly massaged over the face to release facial and muscular tension. It also moves sluggish lymph fluid to help tone the face. 
Benefits of Gua Sha Facial massage: Stimulates Circulation, Increases Lymphatic Flow, Smoothes Facial Expression lines temporarily.  *Includes Facial Cleansing & Aloe Mask and Moisturizer too! Such a wonderful massage and a nice introduction to facial skin care as well.
$142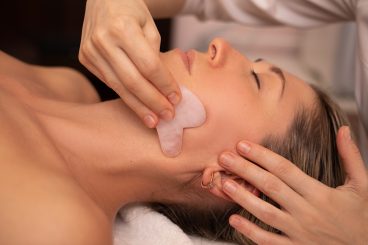 Signature Massages
Our signature massage experience is like no other. First unwind and loosen up in our Infrared Sauna to prep your body and mind for relaxation. Then enjoy a full body massage with CBD oil or our Seasonal Essential oil blend to relax the muscles. This experience also includes dry brushing, as well as hot stones on the back. Your feet will be soft after your moisturizing foot mask and massage. This head to toe treat is our Signature Massage at The Hidden Spa. Massage 75 min, Sauna 30 min.
Total service time is 1 hour and 45 minutes. $200
Book Now
Choose from one of our special aromatic Blends designed to encourage Joy, Peace & Calm, and Renewal. These blends create a perfectly relaxed setting for your treatment using a mix of quality essential oils that have been formulated to help align with your chosen intended emotion. This is a gentle to medium pressure massage that will leave you with a deep sense of balance and relaxation.
60 MIN - $94 90 MIN - $124
Book Now
Enjoy hot and cold elements during this signature body massage treatment to increase blood flow, and relax achy muscles. Your therapist will use hot towels and hot stones, to warm up muscles for deep work, then cool down with chilled stones and a blend of essential oils to help calm stressed nerves, soothe sore joints and ligaments, and reduce inflammation. Feel free to enjoy our Infrared Sauna before or after this amazing massage therapy session.
Massage 75 min & Sauna 30 min = 1 hour & 45 min $175
Book Now
Customized Massages